Shop The Range •
The Missing Puzzle Piece •
Complemen+'s is brewing something special, nothing like the world has ever seen yet. They're fanning the flames of tomorrow
It is very inspiring to see our local entneurs leveraging on their skills and digitalisation to not just grow their businesses, but to also contribute towards uplifting their surrounding communities and employability

A consumer brand that is more than capable of generating significant impact on the environment and community

Lebih menarik, aroma lilin ini juga disesuaikan dengan alunan muzik yang boleh dimainkan melalui platform Spotify, sekali gus memberi ketengan kepada pelanggan

Just imagine the atmosphere. Jesmonite candles that sync with a bespoke Spotify playlist? YES PLEASE

A Scented Success Story: Empowering Growth. Complemen+ has created some scent-sational Innovations in this space

Complemen+'s is brewing something special, nothing like the world has ever seen yet. They're fanning the flames of tomorrow
It is very inspiring to see our local entneurs leveraging on their skills and digitalisation to not just grow their businesses, but to also contribute towards uplifting their surrounding communities and employability

A consumer brand that is more than capable of generating significant impact on the environment and community

Lebih menarik, aroma lilin ini juga disesuaikan dengan alunan muzik yang boleh dimainkan melalui platform Spotify, sekali gus memberi ketengan kepada pelanggan

Just imagine the atmosphere. Jesmonite candles that sync with a bespoke Spotify playlist? YES PLEASE

A Scented Success Story: Empowering Growth. Complemen+ has created some scent-sational Innovations in this space

Complemen+'s is brewing something special, nothing like the world has ever seen yet. They're fanning the flames of tomorrow
It is very inspiring to see our local entneurs leveraging on their skills and digitalisation to not just grow their businesses, but to also contribute towards uplifting their surrounding communities and employability

A consumer brand that is more than capable of generating significant impact on the environment and community

Lebih menarik, aroma lilin ini juga disesuaikan dengan alunan muzik yang boleh dimainkan melalui platform Spotify, sekali gus memberi ketengan kepada pelanggan

Just imagine the atmosphere. Jesmonite candles that sync with a bespoke Spotify playlist? YES PLEASE

A Scented Success Story: Empowering Growth. Complemen+ has created some scent-sational Innovations in this space

Complemen+'s is brewing something special, nothing like the world has ever seen yet. They're fanning the flames of tomorrow
It is very inspiring to see our local entneurs leveraging on their skills and digitalisation to not just grow their businesses, but to also contribute towards uplifting their surrounding communities and employability

A consumer brand that is more than capable of generating significant impact on the environment and community

Lebih menarik, aroma lilin ini juga disesuaikan dengan alunan muzik yang boleh dimainkan melalui platform Spotify, sekali gus memberi ketengan kepada pelanggan

Just imagine the atmosphere. Jesmonite candles that sync with a bespoke Spotify playlist? YES PLEASE

A Scented Success Story: Empowering Growth. Complemen+ has created some scent-sational Innovations in this space

Complemen+'s is brewing something special, nothing like the world has ever seen yet. They're fanning the flames of tomorrow
It is very inspiring to see our local entneurs leveraging on their skills and digitalisation to not just grow their businesses, but to also contribute towards uplifting their surrounding communities and employability

A consumer brand that is more than capable of generating significant impact on the environment and community

Lebih menarik, aroma lilin ini juga disesuaikan dengan alunan muzik yang boleh dimainkan melalui platform Spotify, sekali gus memberi ketengan kepada pelanggan

Just imagine the atmosphere. Jesmonite candles that sync with a bespoke Spotify playlist? YES PLEASE

A Scented Success Story: Empowering Growth. Complemen+ has created some scent-sational Innovations in this space

Complemen+'s is brewing something special, nothing like the world has ever seen yet. They're fanning the flames of tomorrow
It is very inspiring to see our local entneurs leveraging on their skills and digitalisation to not just grow their businesses, but to also contribute towards uplifting their surrounding communities and employability

A consumer brand that is more than capable of generating significant impact on the environment and community

Lebih menarik, aroma lilin ini juga disesuaikan dengan alunan muzik yang boleh dimainkan melalui platform Spotify, sekali gus memberi ketengan kepada pelanggan

Just imagine the atmosphere. Jesmonite candles that sync with a bespoke Spotify playlist? YES PLEASE

A Scented Success Story: Empowering Growth. Complemen+ has created some scent-sational Innovations in this space

Complemen+'s is brewing something special, nothing like the world has ever seen yet. They're fanning the flames of tomorrow
It is very inspiring to see our local entneurs leveraging on their skills and digitalisation to not just grow their businesses, but to also contribute towards uplifting their surrounding communities and employability

A consumer brand that is more than capable of generating significant impact on the environment and community

Lebih menarik, aroma lilin ini juga disesuaikan dengan alunan muzik yang boleh dimainkan melalui platform Spotify, sekali gus memberi ketengan kepada pelanggan

Just imagine the atmosphere. Jesmonite candles that sync with a bespoke Spotify playlist? YES PLEASE

A Scented Success Story: Empowering Growth. Complemen+ has created some scent-sational Innovations in this space

Complemen+'s is brewing something special, nothing like the world has ever seen yet. They're fanning the flames of tomorrow
It is very inspiring to see our local entneurs leveraging on their skills and digitalisation to not just grow their businesses, but to also contribute towards uplifting their surrounding communities and employability

A consumer brand that is more than capable of generating significant impact on the environment and community

Lebih menarik, aroma lilin ini juga disesuaikan dengan alunan muzik yang boleh dimainkan melalui platform Spotify, sekali gus memberi ketengan kepada pelanggan

Just imagine the atmosphere. Jesmonite candles that sync with a bespoke Spotify playlist? YES PLEASE

A Scented Success Story: Empowering Growth. Complemen+ has created some scent-sational Innovations in this space

Complemen+'s is brewing something special, nothing like the world has ever seen yet. They're fanning the flames of tomorrow
It is very inspiring to see our local entneurs leveraging on their skills and digitalisation to not just grow their businesses, but to also contribute towards uplifting their surrounding communities and employability

A consumer brand that is more than capable of generating significant impact on the environment and community

Lebih menarik, aroma lilin ini juga disesuaikan dengan alunan muzik yang boleh dimainkan melalui platform Spotify, sekali gus memberi ketengan kepada pelanggan

Just imagine the atmosphere. Jesmonite candles that sync with a bespoke Spotify playlist? YES PLEASE

A Scented Success Story: Empowering Growth. Complemen+ has created some scent-sational Innovations in this space

Complemen+'s is brewing something special, nothing like the world has ever seen yet. They're fanning the flames of tomorrow
It is very inspiring to see our local entneurs leveraging on their skills and digitalisation to not just grow their businesses, but to also contribute towards uplifting their surrounding communities and employability

A consumer brand that is more than capable of generating significant impact on the environment and community

Lebih menarik, aroma lilin ini juga disesuaikan dengan alunan muzik yang boleh dimainkan melalui platform Spotify, sekali gus memberi ketengan kepada pelanggan

Just imagine the atmosphere. Jesmonite candles that sync with a bespoke Spotify playlist? YES PLEASE

A Scented Success Story: Empowering Growth. Complemen+ has created some scent-sational Innovations in this space

Set The Mood
With Spotify, Complemen+ employs an advanced algorithm to elevate our customers' experience to a symphonic level. This algorithm is carefully curated with a human touch, tailoring music selections to align seamlessly with the ambiance set by their candles.
By analyzing preferences, it curates playlists that resonate with emotions, fostering a multisensory haven. This fusion of sound and scent redefines relaxation, creating an immersive environment that is truly exceptional.
NFC Technology
Learn more about your product with a tappable NFC chip that enables fast and convenient access to information.
In the future, this touchpoint will be used to authenticate our supply chain, loyalty programmes and the exclusive purchase of your candle.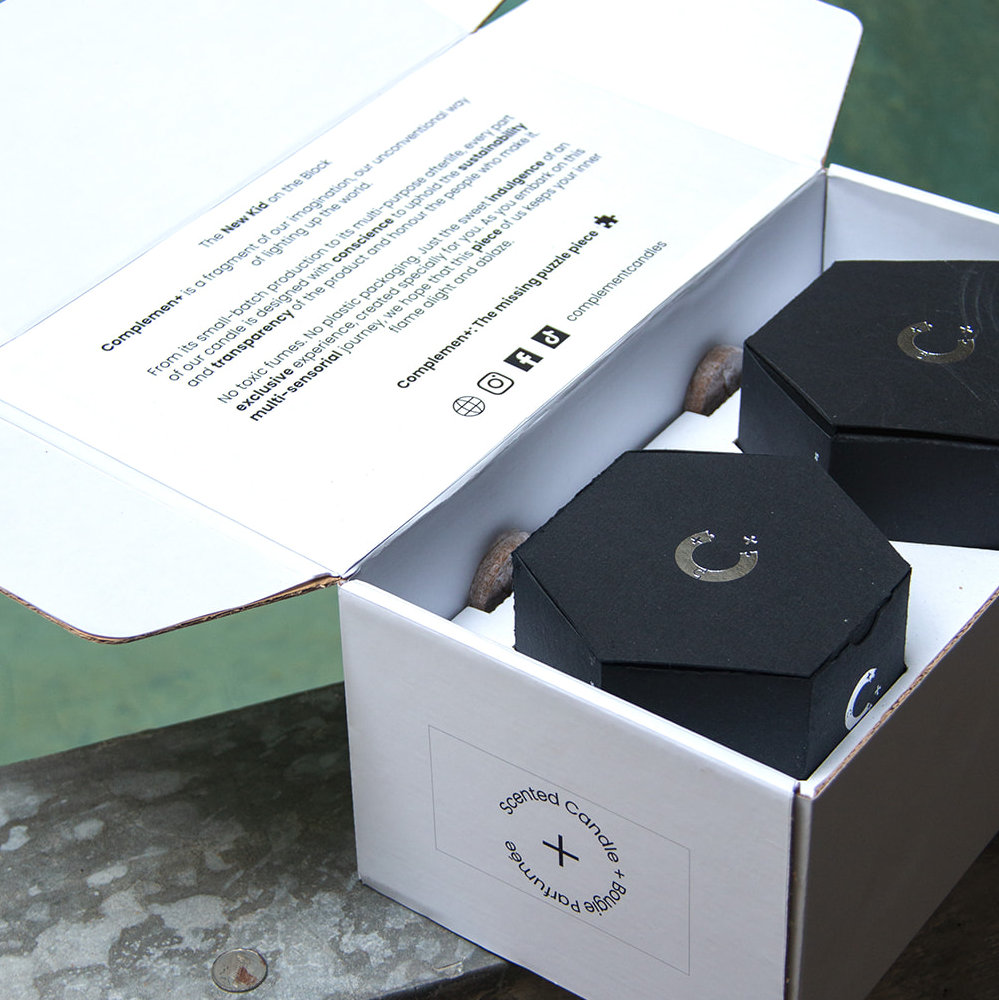 Biodegradable Packaging
"Our carbon-negative packaging saves water & trees. We use tree-free paper from cotton rag waste and mycelium mushroom packaging (grown in just 7 days) as an alternative to styrofoam and bubblewrap.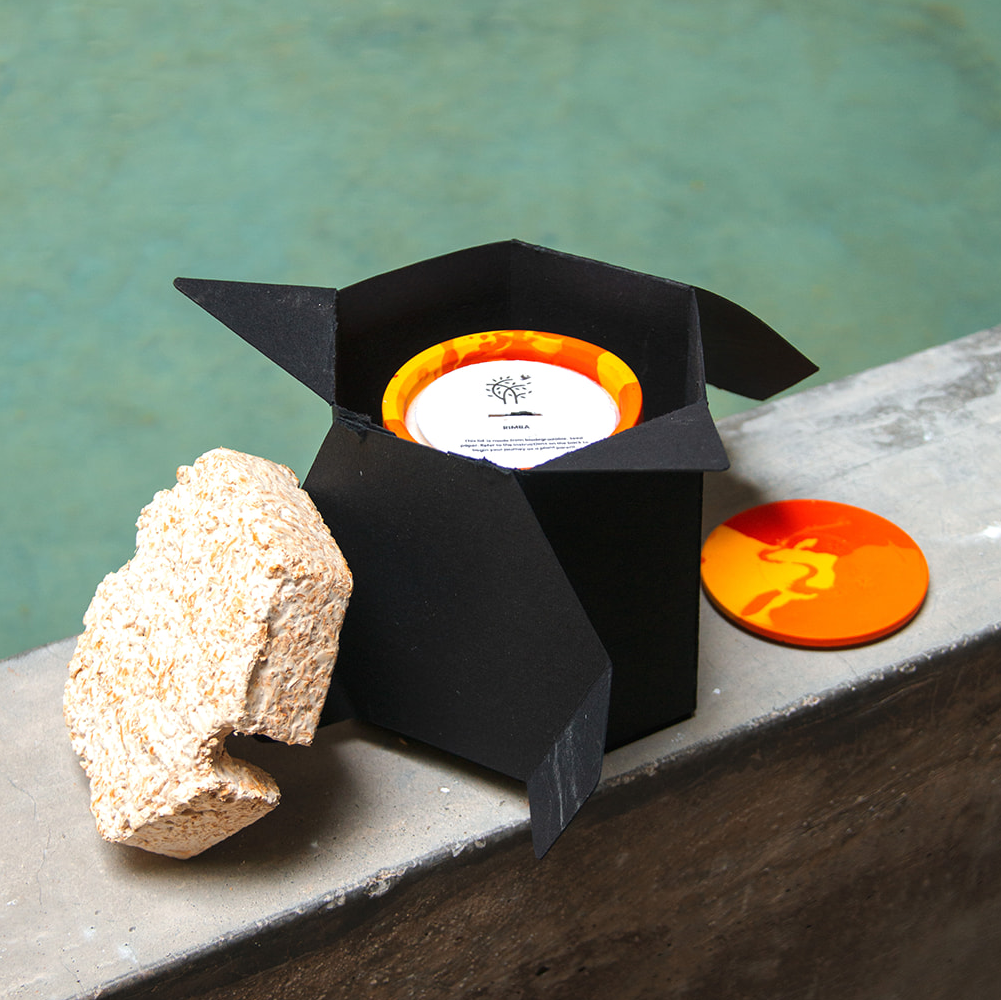 what our 
onnoisseurs 
are saying?
Feels very natural
One thing that sets Complemen+ apart is you can definitely feel how the blend of organic waxes and natural fragrances are always a comfort to inhale. No headaches whatsover.
Brilliant way to unwind
I got Rimba and above everything it's a one of a kind scent. Really created a sense of calm after a long day of work.
Perfect for date night
I totally love how well the scents pair with the playlists. I was lucky enough to get my hands on Inamorata which perfectly set the tone for the night. Even better when spiced up with a glass of wine hehe <3
Scentsational
There were so many cool angles to this candle unlike any I've seen before.
Unique aromas & eco-friendly
Element was the one for me, works best for reading or getting some work done. Although nothing felt better than knowing that my candle (even the packaging) was safe for the environment!